Fracking water pollution in Lancashire 'extremely unlikely'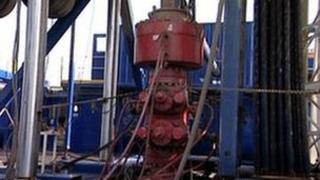 It is "extremely unlikely" shale gas drilling in Lancashire could contaminate ground water supplies, a leading geologist has said.
Campaigners are concerned drilling may pollute drinking water with methane.
Professor Mike Stephenson of the British Geological Survey said most experts thought the process, known as fracking, was a "pretty safe activity".
A report last year found it was highly probable fracking caused two small earthquakes in Lancashire.
Fracking uses high-pressure liquid pumped deep underground to fracture shale rock and release gas.
Test drilling suspended
Campaigners have called for a moratorium on fracking in the UK expressing fears it could lead to pollution of drinking water by methane gas or chemicals in the liquid used in the process.
In December three protesters spent more than 12 hours on a shale gas drilling rig near Southport.
Professor Stephenson said the distance between groundwater supplies 40m to 50m below the surface and the sources of gas in the shale a mile or two underground, made it unlikely methane would leak into water as a result of fracking.
He said: "Most geologists are pretty convinced that it is extremely unlikely contamination would occur."
Cuadrilla, which was carrying out shale gas drilling in Lancashire, suspended its shale gas test drilling in June 2011, following the two earthquakes
One tremor of magnitude 2.3 hit the Fylde coast on 1 April, followed by a second of magnitude 1.4 on 27 May.
The company has said it will employ monitoring and a "traffic light" system which will halt fracking before seismic activity can build up to a similar quake.
A survey is currently being carried out to establish a level for any gas naturally found in groundwater before drilling took place.
Professor Stephenson said "If you don't know what the baseline is, you don't know if people are running a tight ship.
"There's natural methane in groundwater and you have to distinguish between what's there already and what might have leaked in."