Bishop of Burnley: assisted suicide report 'flawed'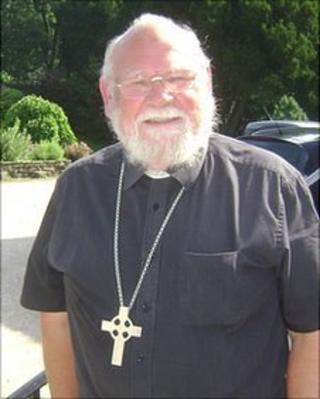 The Bishop of Burnley has questioned the findings of a recent report about assisted dying.
The Right Reverend John Goddard, who is against any form of assisted dying, said the commission was biased in favour of a change in the law.
He said the recommendations are from a "stuffed commission".
The Commission on Assisted Dying, set up and funded by campaigners who want to see a change in the law, had said the current system was "inadequate".
Bishop Goddard said: "If you set as up a commission in which all but one person is totally committed to moving forward to assisted dying or assisted killing that will give you the report we've got. It's a flawed report.
"It's built on hard cases rather than good cases to make good law. Only one person on the commission, a priest, stood against the findings and there has been no mention in the general media of him."
More than 1,300 gave evidence to the panel which found there is a "strong case" that assisted suicide should be allowed for mentally sound people over 18-years-old who are terminally ill and judged as having less than 12 months to live.
'Awful deaths'
The report also said the person would also need to be independently assessed by two doctors.
Some groups refused to contribute to the commission, which was led by former barrister and Justice Secretary Lord Falconer, because they were unhappy with the panel's remit and the way it was put together.
Baroness Barbara Young, who sat on the commission and supported its findings, said: "There are a group of people who really don't want to go through the rather ghastly, painful and awful deaths they can see coming down the road.
"People with illnesses like motor neurone disease or people who have terminal cancer. People who really don't want to go through the pain and the lost control of their last few weeks.
"It's for that group and it's not for a huge group of people."
Les Burke from Lancaster, who suffers from a degenerative brain condition and who took a "right to live" campaign to the High Court said he is against the panel's findings.
He said: "I don't believe it reflects the view of everybody, it probably reflects the view of a small minority.
"Not everybody with a terminal illness wishes to end their life before it would naturally be over. Life is too enjoyable and too short to want to end it early.
"I don't believe you can have a law for the minority that might endanger the majority."
The Reverend Stephen Poxon, leader of Lancashire's Methodists, said: "My initial response is that I would not support anything in which one person has the right to take the life of another, but I would encourage a sensible debate when we can each learn from one another."
Bishop Goddard also called for further dialogue embracing all opinions evenly. He said: "We need to be transparent in our discussions. We need to do it on a principled basis and if it is to be discussed it needs to be in an open way."
Joe Wilson presents the faith programme on BBC Radio Lancashire from 06:00 each Sunday.