Titanic's Wallace Hartley honoured by Pendle composer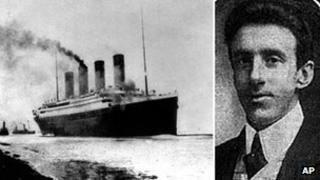 A Lancashire composer has revealed a musical tribute to the leader of the band on the Titanic, Wallace Hartley.
Peter Young from Earby, Pendle decided to compose a four movement concerto to celebrate the bravery of the Colne-born violinist in the ship's centenary year.
Wallace Hartley and his band continued to play as the ship sank off the coast of Newfoundland in April 1912.
Mr Young said he was "honoured to compose a piece about Colne's famous son, who died so tragically".
"Many people have been moved by Wallace's bravery in keeping up the spirits of passengers and crew during the Titanic's final two hours," he said.
"I felt inspired by his life and bravery to compose the piece."
The concerto's four movements are based on different aspects of the band leader's life and include a violin solo, as that was the Colne man's instrument.
The first two movements, Pastorale - Greenfield Road and Sunday - Bethel Chapel, are inspired by his life in Colne, while the last two, The Ballroom and Epilogue, deal with his time on the Titanic.
Mr Young said the final movement was "an elegy based on Nearer My God To Thee, the hymn which some survivors said was the last music they heard Wallace's band play as the Titanic sank".
The as-yet-untitled piece will receive its full debut performance in June at a concert at Wallace's parish church, Holy Trinity in Colne.
The band leader was a regular attendee at the church and played his violin there on several occasions.
Mr Young has composed since his schooldays and previously wrote the theme tune for the BBC's coverage of the 1976 Olympics in Montreal.