Blackpool Tower's frontage to be restored with glass canopy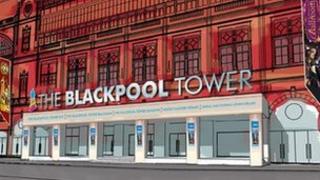 Plans for the refurbishment of the frontage of Blackpool Tower have been unveiled.
The work will see stained glass and terracotta tiling restored and a glass-fronted canopy added to the entrance.
The restoration is expected to be completed over the next 12 months. Windows have already been replaced in the upper floors of the building.
Iain Hawkins, from Blackpool Tower, said there was a "terrific amount of work to do".
During the next year, the legs of the Tower will be painted and uncovered windows and architecture will be restored to reveal the original building.
Mr Hawkins said: "After taking off the old canopy, whatever we put on the front we wanted to make sure people would see the amazing heritage behind, which is why we have gone for a more contemporary feel for the new canopy using glass.
"It will make the front of the Tower look fantastic and will complement the work done by the council in creating the Comedy Carpet and the new headland."
Blackpool Tower reopened on 1 September 2011 after a year-long project of restoration and the introduction of new attractions.