Lancaster Castle to open for Jubilee and Witch trial anniversary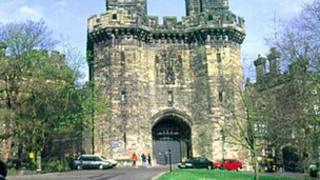 Previously unseen areas of Lancaster Castle could be opened up to the public during the summer.
The Duchy of Lancaster, which manages it on behalf of The Queen, hopes to open up more of the castle as part of the Diamond Jubilee celebrations.
The Duchy will officially take possession of the former prison from the Ministry of Justice next week.
Currently, only part of the Grade I-listed building is open to the public. It closed as a prison in March 2011.
The Lancashire witch trials were also held at the castle, and this year is the 400th anniversary of the trials.
Witches' Tower
Castle manager Colin Penny said the story of the witches is "perennially popular" with people visiting the castle specifically to hear the story.
Mr Penny said many of the parts of the castle associated with the witches were off-limits at the moment, but that there would be a lot of interest if more of the castle was open.
He said: "Probably the most interesting would be what's known as the dungeon, underneath a tower, which has become known as the Witches' Tower.
"You descend a very steep flight of steps into almost total darkness and there are iron rings in the floor which it's believed people were chained to.
"It's widely believed that's the room in which the Lancashire witches were imprisoned prior to their trial, and immediately before their execution."
Twelve people were charged with the murders of 10 people by the use of witchcraft during the Lancashire witch trials in 1612.
Ten were found guilty and hanged, one died while awaiting trial, and one was found not guilty.