Darwen Tower dome replacement delayed due to high winds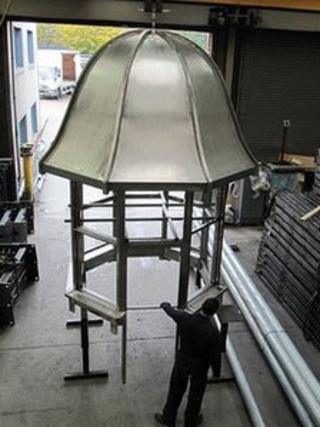 The replacement of the top of a Lancashire landmark, blown off in strong winds more than a year ago, has been delayed due to more high winds.
Darwen Tower lost its fibreglass dome and weather vane during winds of up to 80mph (129km/h) on 11 November 2010.
Peter Roberts, senior design manager at WEC Group Ltd, has overseen the building of a new stainless steel dome.
He said it had been ready for three weeks, but could not be airlifted into place because of more adverse weather.
Mr Roberts said: "We were hoping to put it up by 10 December, but we had severe weather just before Christmas which postponed the lift.
"Unfortunately now the helicopter that we were going to use is not going to be available to us until about 9 January."
The new dome, made from powder-coated stainless steel, is the third top to crown the tower.
The original, made from wood, also blew off in high winds in 1947. It was eventually replaced by a fibreglass top after Darwen mayor Bill Lees launched a fund for a new dome in 1971.
Mr Roberts said: "The reason it blew off is because the connection from the wooden window sills to the concrete wall that is on top of the tower corroded away.
"A stainless steel structure will never corrode away, and will be there for another 500 years.
"I'm sure when it's placed it will be exciting. I've never lifted a structure up before using a helicopter and I'm 67 years old."
Darwen Tower, a Grade II listed structure, was built in 1897 to commemorate Queen Victoria's diamond jubilee.