First marathon set for Preston Guild celebration, 2012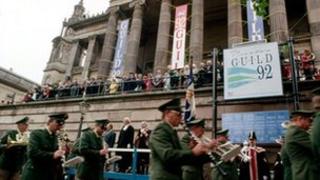 Preston will host its first marathon in 2012 as part of the city's Guild celebrations.
The 26-mile race which takes place on 28 October will start and finish in the city centre.
The race is part of a the historic celebrations which take place every 20 years.
A series of sporting events will taking place throughout 2012 as the city also marks its year as the UK European City of Sport.
A spokesperson for the Guild said: "The Preston Guild symbolises bringing people together and celebrating is a momentous occasion.
"A great course has been planned for Preston's first ever marathon starting and finishing in the city centre, but taking in the outlying areas of Penwortham, Cottam and into the more areas of Lea Town, Salwick and Treales before returning to the city centre.
"The Guild is about people and everyone is encouraged to take part and be part of the city's history."
The Preston Guild dates back to 1179 when King Henry II granted the town the right to have a Guild Merchant and gave the town its first royal charter.
It is the only Guild still celebrated in the UK.