'Desperate' Blackburn Rovers fans protest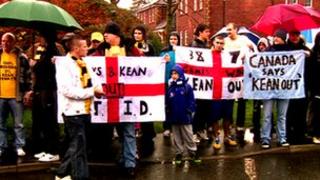 Blackburn Rovers supporters have staged a protest at the club's training ground venting their frustration at the club's owner.
Venky's, Rovers' Indian owner, has overseen the team's fall to the bottom of the Premier League.
Protest organiser Glen Mullan said: "It is aimed at the mismanagement of the club by the owners."
Poultry giant Venky's became the first Indian company to own a Premier League club, in a £43m deal in November 2010.
One fan said: "What's happened at the club is an absolute scandal and we just hope that Venky's listen sooner rather than later."
Another added: "We just feel so desperate that we need to do everything, we obviously have a manager in place that shouldn't be there."
The fans' protest was backed by the local newspaper, The Lancashire Evening Telegraph which said, "The supporters simply don't deserve to be witnessing the awful, and growing, chaos at their beloved Rovers.
"That's why their protests are now so right - and so justified."
Nobody at the club was available for comment.