Burnley Churches' Christmas meal for people on their own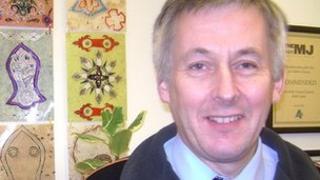 Churches in Burnley are asking people to join them at a special Christmas Day lunch they are preparing in the town.
The Burnley Methodist Circuit is offering a meal for local people who are on their own on Christmas Day.
The meal will be held at Burnley Central Methodist Church and organisers have said they expect about 50 people to take them up on their offer.
The Reverend Phil Clarke said the meal will emphasise the positive side of Christmas.
He said: "We do it because we believe Christmas is about good news.
"We believe the message of Christmas is that God loves everyone and sent his son for the world.
"That needs to be made known, not just in words, but also in actions."
'Difficult day'
Mr Clarke said a lot of people were volunteering to help. He said: "People are doing what they can. Some have offered to prepare vegetables, serve or wash up.
"People have come forward to help with the music, some to lead the carols and Burnley Hospital are helping with the food. It is quite multifaceted."
The church is offering transport to those who cannot otherwise get to the church.
They have not forgotten those who are on their own and cannot leave the house.
Mr Clarke said: "We have a list of folk who probably wouldn't see anybody else on the day.
"We'll be sending somebody out from Central Methodists with food and with a small gift.
"Hopefully that will cheer them up on what otherwise might be a difficult day for them."
The organisers are asking anyone who want to help or to join them for Christmas lunch to get in touch with them at their church on Hargreaves Street, Burnley.
The church says Christmas Day is for celebrating Jesus's birthday with their wider Burnley friends.
Mr Clarke said: "The Christian story is about a family - Mary, Joseph and Jesus. The whole idea of family and community is very central to the Christian message.
"So we see Christmas as the king's birthday and we are going to have a party feeling to the day."
Joe Wilson presents the faith programme on BBC Radio Lancashire from 06:00 each Sunday.