Silverdale Viking hoard examined by British Museum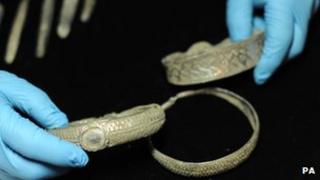 A hoard of Viking coins and jewellery found buried in north Lancashire is being examined by experts at the British Museum.
The collection of more than 200 coins and pieces of jewellery was found in September close to Silverdale by Darren Webster, 39.
The hoard, which was in a lead box, includes a coin thought to refer to a previously unknown Viking ruler.
A coroner will decide this week if the hoard qualifies as treasure trove.
If so, an independent committee will value it and any money raised from its sale will be divided equally between the landowner and Mr Webster.
'Falling silver'
The hoard was found buried 16in (40cm) underground
Mr Webster said: "The minute I found it I knew what it was or had a very good idea what it was.
"The coins, the bracelets, I knew it was more than likely Viking.
"Some people search all their life and don't find anything like that. I was very lucky to find what I found.
"The first thing I discovered was the lead pot it was contained in.
"When I lifted that out of the hole that's when I noticed silver falling from the pot."
The hoard is on show at a British Museum event to launch the Treasure and Portable Antiquities Scheme reports, which shows there were 157,188 finds recorded in 2009 and 2010.