RNLI crews remember 125th anniversary of Mexico disaster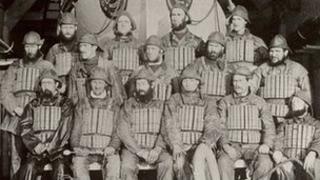 The 125th anniversary of a disaster in the Ribble Estuary, where 27 volunteer lifeboat crewmen lost their lives, has been commemorated in Lancashire.
On the night of 9 December 1886, the German barque Mexico was wrecked at the mouth of the Ribble during a gale.
Three lifeboats from Lytham, Southport and St Annes put out to attempt to rescue the crew.
The RNLI said it was the worst disaster to befall the institution in its 187-year history.
The Lytham Lifeboat launched first and rescued the 12 men on board the stricken vessel.
They landed them safely back at Lytham at 03:15 GMT on 10 December to loud cheering from a large crowd gathered on the beach.
The Southport Lifeboat was taken along the beach to a suitable launching site and put to sea.
Washed ashore
It reached a position close to the Mexico and was about to go alongside when it was capsized by a large wave.
The lifeboat was washed ashore and only two out of its 16 crew members survived.
The St Annes Lifeboat headed out and was not seen again until it was found upturned on Southport beach the following day. Its entire crew of 13 drowned.
Volunteer crew members of Lytham St Annes RNLI and relatives of the men who lost their lives attended a service at St John's Church to mark the anniversary.
The church is situated on East Beach, opposite the Lytham windmill, and the former lifeboat house where the survivors from the Mexico were brought ashore. Members of the public are welcome to attend.
Peter Whalley, from the RNLI Lytham St Annes, said: "The sacrifices of these 27 volunteer lifeboat men must not be forgotten in this modern age.
"They gave their lives in the attempt to save total strangers and upheld the fine traditions of the Royal National Lifeboat Institution in the worst disaster to befall the service."