Fire crews tackle blaze on Preston industrial estate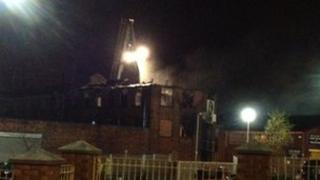 More than 40 firefighters worked through the night to put out a fire at a warehouse in Lancashire.
The blaze started at the three-storey building on an industrial estate in Laurel Street in the Avenham area of Preston at about 01:30 GMT.
Part of the building, which was empty at the time, has been destroyed. It suffered severe water and smoke damage.
A spokesman for Lancashire Fire Service said it was thought the fire started on the top floor.