Accrington Stanley's London visit to raise club profile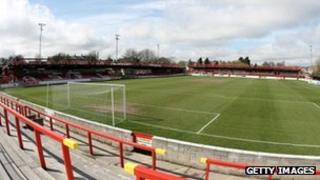 Accrington Stanley Football Club bosses say they are trying to find potential investors who have a "soft spot" for the club - 200 miles away in London.
Club officials went down to the capital on Sunday to hand out more than 2,000 flyers to promote the shares they have for sale.
The club is hoping to raise £1m by offering fans the chance to own a share in the club for £100 each.
Since shares went on sale in October, 300 of the 10,000 have been sold.
Club chief executive Rob Heys said they had already found many people in London with a soft spot for Stanley.
He said: "It's amazing how many people have a link, either they've got a relative that played at Accrington, or they're an older person who came to watch us at Peel Park at some point in the past.
"The shares are bringing in some money, but it's also increasing the number of people who are involved.
"Everyone who buys a share is entitled to vote at the AGM, so there's that ownership of the club, and we want as many people to have that experience as possible."
Mr Heys said he now hoped to visit other cities to promote the club.