Halton village 'Lady Godiva' protest over Heysham M6 link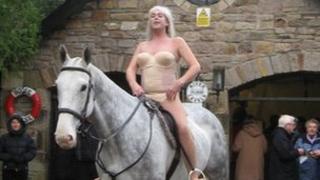 Campaigners in a Lancashire village have held a "Lady Godiva" protest march against proposed plans for a Heysham to M6 link road.
A man, whose house is on the proposed route of the new road, dressed as Lady Godiva and rode a horse to lead the march through the village of Halton.
Opponents of the road said it would mean more traffic through the village.
Lancashire County Council said the scheme will see an overall fall in traffic and make local roads safer.
Construction of the road is planned to start in late 2012.
In February the council made a number of design changes to the road to reduce costs from £139m to £123m.
'Safer overall'
Local resident Keith Hanley said: "People in Halton are at the sore end of all this because of all the modifications that were recently introduced.
"It has been redrawn and the plans affect our locality disastrously, and the scheme at present is impossible, it couldn't work."
Steve McCreesh, Lancashire County Council project director for the road said: "We are taking traffic away from the whole area and away from unsuitable narrow country lanes.
We're putting traffic on a dual carriageway road which will be purpose built, with purpose-made safe junctions. It has got to be safer overall."