Lancashire community knit Christmas tree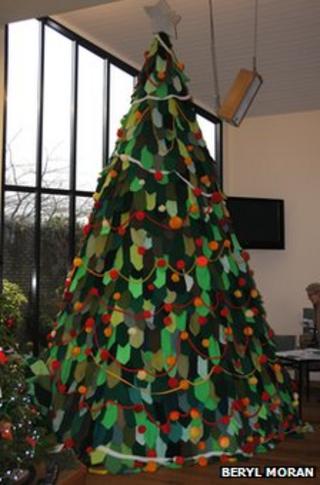 A Lancashire community has created an unusual centrepiece to a Christmas Tree Festival - a knitted tree.
The 18ft (5.4m) tree at Poulton-le-Flyde Methodist Church was one of 46 shown at the festival.
It was knitted by church members, residents of a retirement home and a library knitting group.
Church member Beryl Moran said that once Christmas was over, the tree would "be taken apart and stitched together to make blankets".
All the tree's leaves and decorations have been knitted and Mrs Moran said the size of it had only been limited because "ours is a modern church".
"The knitting has been going on for months and we like to think of it as a community tree," she said.
"People from the church, their friends and relatives, residents of a home in Bamber Bridge and the Knitting Nanas Group at the local library have all been involved.
"In fact, anybody who could hold two knitting needles and a ball of wool knitted."
She said the knitted tree "will stay up over Christmas".
"After that, it will be taken apart and the leaves will then be stitched together to make blankets," she said.
"They will go overseas to wherever they are most needed."