Three fracking protesters come down from Lancashire rig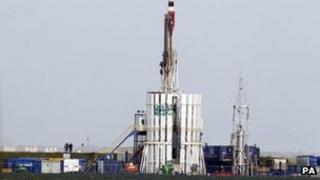 Three protesters who spent more than 12 hours on a shale gas drilling rig in Lancashire have come down.
The two women and a man climbed the rig, where tests for the controversial process known as fracking is taking place, at 07:30 GMT on Thursday.
Police said they came down at about 21:00 GMT and were being questioned. Two others have already been charged.
Energy company Cuadrilla, which owns the rig at Banks, said it had "nothing to hide" about its operations.
It said the protesters were not local, had "not bothered" to participate in dialogue and were using up police time.
The protesters said they were from Bristol Rising Tide group and intended to occupy the site for several days in order to halt the drilling.
Fracking is the process of drilling into hard shale rocks to release the gas.
Concerns have been raised that the process could contaminate water supplies and may cause small earth tremors.
Lancashire police said a 40-year-old woman and 42-year-old man, both from Bristol, have been charged with obstructing or disrupting a person engaged in a lawful activity and have been bailed to appear before Ormskirk Magistrates' Court on 20 December.