Lancashire hospital trusts 'among worst' for mortality rates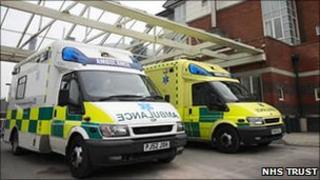 Two Lancashire hospital trusts have been rated among the worst in England for mortality rates in a new report.
Research company Dr Foster gave Blackpool Teaching Hospitals Trust and the University Hospitals of Morecambe Bay Trust higher than average ratings for their patient death rates.
Its study also rated the trusts as higher than average for the number of patients who die after treatment there.
Blackpool Teaching Hospitals Trust said improving care quality was a priority.
Dr Foster, which works closely with the Department of Health, said death rates appeared higher than they should be in more than a quarter of trusts in England.
The data was published in the group's Hospital Guide, which has been produced yearly for the past decade.
It looked at death rates using four measures - deaths in hospital, deaths in hospital and within 30 days of discharge, deaths linked to low-risk conditions and deaths after surgery.
The report found Blackpool Teaching Hospitals Trust had a 12% higher than average rate of deaths, and a 17% higher than average rate of deaths both in and out of hospital within 30 days of having hospital treatment.
The University Hospitals of Morecambe Bay Trust was given a rating 24% higher than average for deaths in hospital and a 14% higher than average rate of deaths both in and out of hospital following treatment.
'Public health issues'
Dr Paul Kelsey, medical director for Blackpool Teaching Hospitals NHS Foundation Trust, said the data should be treated with caution as it did not give a true reflection of the quality of care patients can expect.
He said: "One of our concerns is that the new mortality indicator does not take into account issues such as deprivation and public health issues.
"Blackpool has amongst the highest levels of deprivation in the country with lower than average life expectancy.
"The town also has higher than average deaths related to alcohol, smoking, IV drug use and heart disease and as the SHMI data [mortality rating] is not adjusted to reflect this our figures will be higher."
He said improving quality of care and enhancing patient safety were the trusts key priorities and added the trust board would be commissioning an independent external review to look at mortality rates.
Tony Halsall, chief executive at University Hospitals of Morecambe Bay NHS Foundation Trust, said problems in the way some information had been recorded may have affected the Dr Foster figures.
He said: "We have been looking very carefully at the detailed information and we have asked our doctors to continually review all deaths within the hospitals to ensure appropriate care was given in each case.
"We also undertake clinical audits to identify improvements in clinical care and provide staff with protected time for this.
"Over the last five years we have seen a decrease in deaths at our hospitals, and we believe that the main reason for any increase in our Dr Foster HSMR figure is to do with coding and the recording of mortality data.
"We are not complacent, everyone in our hospitals works hard to ensure we provide the best possible care for all our patients and to find new ways to make that care even better through our safety express and advancing quality programmes."