Leyland waste site prompts complaints over bad smells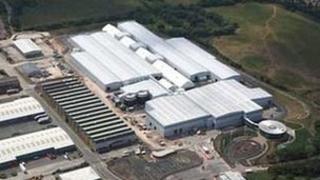 Bad smells coming from a waste recycling plant in Lancashire are making life unpleasant for residents, it has been claimed.
People who live near the Farington Waste Recovery Park near Leyland said odours coming from the site, which opened last year, are like "compost".
Global Renewables, which runs the site with Lancashire County Council, said it was taking steps to control odours.
One resident, Ian Wayne, said he had been living with the smell for months.
'Number of complaints'
"Before it was first built, there were three things they told us - it won't be an eyesore, your property won't be affected, and it won't smell.
"Categorically all of them have been affected in a big way," said Mr Wayne.
A statement from Global Renewables said: "We have recently received a number of complaints from local residents about odour from our facility.
"We are considering applying for planning permission to extend our stack heights from the existing 12 meters to 20 meters.
"This is not a decision we will take lightly, but is one of a number of measures that we are carrying out which will improve the odour control in our facility.
"It has been reported that we suggested issuing air fresheners to local residents. This is not the case. When asked directly by a resident if we would pay for his air fresheners we replied that we would provide some."