Co-op shale gas report questions carbon footprint cost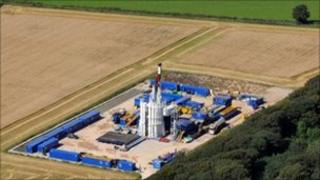 Using shale gas could stop the UK from reducing its carbon footprint, a report for the Co-operative group claimed.
It said recovering 20% of Lancashire's gas resources would produce 2bn tonnes of carbon dioxide.
Shale gas would account for almost 15% of the UK's total allowed emissions up to 2050, the report said.
The Department of Energy and Climate Change (DECC) said it would expect the footprint for shale gas to be similar to onshore natural gas fields.
The report by the Tyndall Centre for Climate Change Research in Manchester, said that exploiting shale gas would have limited benefits in terms of replacing coal and could draw money away from investment in renewables, preventing the delivery of thousands of onshore or offshore wind turbines.
'Dash for gas'
Kevin Anderson, professor of energy and climate change at the Tyndall Centre said: "As the government's committee on climate change make clear, for the UK to meet its binding carbon budgets, electricity needs to be decarbonised by 2030 with domestic heating having moved from high-carbon gas to low-carbon electricity.
"With so little time to meet these commitments, there is no meaningful emissions allowance available for shale gas.
"Moreover, pursuing shale gas electricity risks displacing urgently required investments in genuinely low-carbon energy supply.
"Consequently the government faces a difficult choice: to lead a new and low-carbon energy revolution or stick with high carbon fossil fuels, forgo its emissions targets and relinquish its hard-won international reputation on climate change."
Paul Monaghan, head of social goals at the Co-operative, said: "This authoritative report shows that a new dash for gas is incompatible with the UK's carbon reduction targets and that a complete re-appraisal of approach is needed."
Viability 'not established'
There are also concerns over the process used to extract shale gas, known as fracking.
The study said fracking had caused earthquakes in Lancashire, with damage to one of the wells drilled into the shale seam reported as a result.
A DECC spokesman said: "The full extent of shale gas in the UK and its economic and environmental viability is yet to be established.
"At best, it is years away, and as the recent report on the Lancashire earthquakes showed, there remain issues to be addressed about hydraulic fracturing, or 'fracking'.
"However, we would expect shale gas to have a carbon footprint of the same order as natural gas from conventional onshore fields."