Angela Allison wins award for Diabetes Power website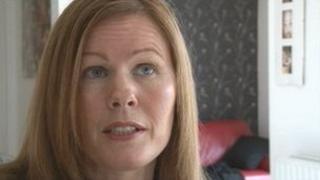 A mother-of-five from Lancashire who was inspired to develop a website after her 10-year-old daughter was diagnosed with type 1 diabetes has won an award.
Angela Allison, from Preston, set up Diabetes Power; an online forum for parents and children living with diabetes to share experiences.
It has won a Quality in Care Diabetes People's Award which highlights good ideas and shares them across the NHS.
The site also aims to raise awareness of type 1 diabetes.
Mrs Allison said she was "absolutely thrilled" to win the award.
'People power'
She said: "Since Claudia was diagnosed, we have worked towards a type 1 awareness campaign.
"To finally see the campaign moving forward means all the hours and the work have been worth it."
NHS diabetes director Anna Morton said: "Angela is a shining example of people power.
"Angela's website has provided support, answers and awareness to people with diabetes and their families and carers.
"With all the changes taking place in the health service, the NHS needs champions like Angela to help make a difference to people with diabetes."