Church leader's concern over prison rehabilitation cuts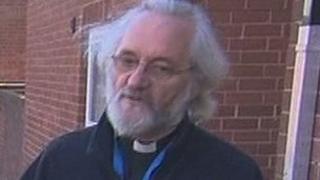 A senior church leader in Lancashire has said government cuts to prison rehabilitation work will inevitably lead to higher rates of re-offending.
The Reverend Ed Saville, from the Blackburn Diocese, said there is strong evidence that such projects are successful.
He said they lead to fewer crimes and therefore financial savings for society as a whole.
The Ministry of Justice said they fully committed to rehabilitating prisoners.
'Locking people up'
Some faith charities, which currently provide around 80% of rehabilitation work in prisons, have said they are struggling to continue their programmes because funding cuts have hit their work.
Latest figures from the Ministry of Justice show the prison population is at its highest ever, which makes it even harder to fund the projects working with offenders.
Mr Saville said: "Everybody will spend money on locking people up, but they won't do anything to prepare them for their release."
The Prison Fellowship, a faith-based organisation helping prisoners to mend their criminal ways, said prison authorities are struggling to meet their costs.
Chief executive Natalie Cronin said: "Even though we don't charge the full amount the courses cost us, even that small amount the prisons are unable to find."
In a statement, the Ministry of Justice said: "We recognise the valuable contribution the voluntary sector makes to helping reform offenders' lives and that they are operating in a challenging economic climate.
"This is why we are making over £100m available to them through the transitional fund."
'Laughable'
Mr Saville said the response was "laughable". He said the transition fund had deadlines which were impossible to meet.
He said: "When we complained about this they said they would give us more money, but it had to be for applications made before the original deadline. So it was an impossible task."
Lancashire Methodist Minister Reverend Terry Young, who is also a magistrate, said fewer rehabilitation courses will mean more re-offending.
He said: "It's bound to have a negative effect. All the work of chaplains and prison visitors is proven to be of help to the prisoners.
"If that is not there, there will be less of a good effect."
Joe Wilson presents the faith programme on BBC Radio Lancashire from 06:00 each Sunday.