Chorley Council invests in new gritters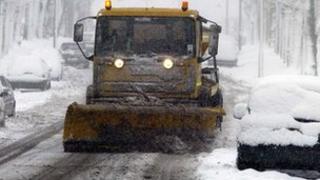 A Lancashire council has bought two new gritters in anticipation of another severe winter.
Chorley Council said the vehicles would mean it would be better prepared should there be more snow and ice.
The authority is responsible for gritting car parks, cemeteries and parks while Lancashire County Council looks after roads and footpaths.
The councils held joint talks which resulted in Chorley buying the two new gritting machines.
Councillor Eric Bell, who is responsible for the gritting service provided by Chorley Council, said: "The last two years we've had really severe weather over the winter and we've tried to learn a few lessons and see how we can do things better.
"It can be quite confusing for residents because Lancashire County Council, as the highway authority, is responsible for gritting and clearing the roads and footpaths.
"Whereas Chorley Council has responsibility for treating the land it owns, such as the town centre car parks, cemeteries and recreation grounds.
"Both authorities have sat down to plan for severe wintry weather and we have agreed a new plan of action for the winter that ultimately means we will be working together better to keep Chorley moving during any severe weather."