Scout Moor Wind Farm expansion plans go to consultation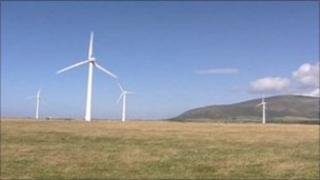 A consultation over plans to install more turbines at a wind farm on the Lancashire moorland is set to take place later this month.
Peel Energy is hoping to add to the 26-turbine Scout Moor site, which is on land between Edenfield and Rochdale.
It is holding several public events for three weeks from 28 November to allow people living near the site to give their views on future expansion.
They will take place in Rochdale, Bury, Rossendale Valley and Todmorden.
Peel Energy's development director, Jon England, said: "We are committed to involving the public in our plans to expand the wind farm and we would like to see as many people as possible during this first consultation period while the proposals are at the early stage of development."
"We are keen to gain views on a number of issues such as the possible location and size of new turbines.
"We will also be able to discuss the options for accessing the site and connecting the new turbines to the electricity grid."
The wind farm, which began operating in 2008, generates enough electricity to power 40,000 homes.
Before it opened it faced opposition from residents' groups and Rossendale, Rochdale and Lancashire County councils.
It was given the go ahead in May 2005 after a public inquiry.