Lancaster's Lune Aqueduct undergoes restoration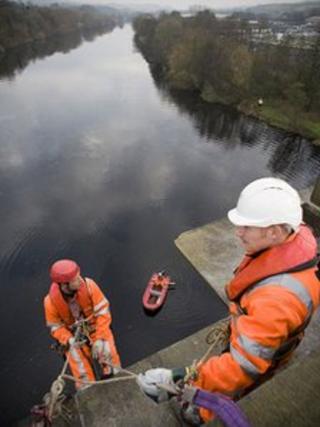 For Terry Mellis, dangling 53ft (16m) over the side of the Lune Aqueduct in Lancaster is "just another day at the office".
He is part of a team of specialist contractors abseiling down the aqueduct high above the River Lune to carry out repair work on difficult to access areas.
The Grade I-listed 200-year-old Georgian structure is being restored as part of a £2.4m restoration project.
The two-year operation includes repairing the canal channel, removing vegetation and graffiti, undertaking repointing and masonry repairs and improving public access.
'Head for heights'
"We do this all year round, so you've got to have a head for heights," said Mr Mellis.
"There's not many people who will see places from where we see them."
Designed by John Rennie and constructed by Alexander Stevens, the aqueduct consists of five stone arches supporting a 600ft (183m) stone trough.
It took three years to build and was completed in 1797 at a cost £48,321.
This amount exceeded the original estimate of £18,619 to such an extent that a corresponding aqueduct over the River Ribble was never built.
'National heritage'
The aqueduct is an impressive feature of the Lancaster Canal, which was the main conduit for the economic development of Cumbria and parts of Lancashire for more than 100 years.
An inscription on the upstream face of the aqueduct reads "To Public Prosperity" while the downstream side bears a Latin inscription, translated as "Old needs are served, far distant sites combined. Rivers by art to bring new wealth are joined".
Clive Mitchell, project manager for British Waterways, said: "It's incredible to be able to restore the aqueduct and unveil a view which shows it in its full former glory.
"The work that we are doing will safeguard this important piece of local and national heritage for generations to come."
The work is due to be completed by January next year, and a project officer will be employed to work with local schools and the community to provide people with the opportunity get involved in the long-term management of the aqueduct
An open day, including guided tours, is being held on 25 November for members of the public to see the restoration first-hand.