Blackpool Tower Dungeon asks for skeleton donations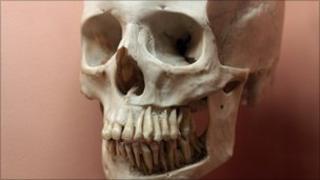 A Lancashire tourist attraction has asked people to donate their skeletons for use in exhibits after they die.
Blackpool Tower Dungeon, which opened in August, said it wanted two fresh human skeletons for use in displays.
Donors would have to leave their bodies to medical science, allowing the dungeon to take ownership of the bones.
Manager Garry Blackadder said: "We have fake skeletons in some of our historic sets but there's nothing to compare with the real thing."
Volunteers will be invited to the dungeon to sign a contract, which requires them to leave their bodies to the faculty of medical and human sciences at Manchester University.
Once organs and tissues have been stripped, the remaining skeletons will be cleaned and sterilised before being transferred to the seaside resort.