Traders' anger at threat to close Lancaster Market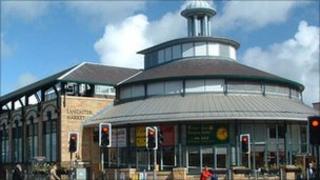 Traders at Lancaster's indoor market are fighting a proposal to close it next year ahead of a council vote.
Peter Corke, from the Lancaster Market Tenants' Association, said traders needed help to ensure their survival.
He said they will consider taking legal action against the city council if they do not receive compensation and help to move to another location.
City council leader Eileen Blamire said the proposed closure would mean long-term savings on the market's lease.
Councillors are expected to vote on the issue on Wednesday.
Mr Corke said that traders "just want to be treated fairly".
Ms Blamire, said the current lease cost the council about £650,000 a year.
She said: "It's a 15-year-old building, it needs money spending on it.
"We have tried extremely hard to keep it open and support it.
"There's a lot more competition than there used to be and it's more and more difficult for the tenants to make a living, so we can't keep charging them more rent.
"People are leaving in the short-term and I really feel if we wait for it to happen over a long period of time to dwindle away, we're not doing anyone any favours."