Fourteen Lancashire police stations to close to public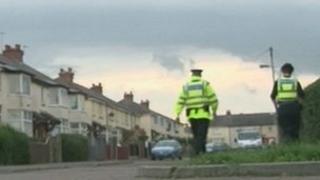 Fourteen police stations in Lancashire will close to the public next summer in a move which will save the force nearly £400,000.
Lancashire Constabulary had planned to close 21 front counters at stations around the county as part of its plan to save £42m over the next four years.
After a consultation period that number has been reduced to 14.
Thirty-one other police buildings are also set to close, but Broughton Police Station has been given a reprieve.
The force said it would remain open but would be reassessed at a later date.
It said it would save just over £386,000 a year through the closure of the 14 front counters, £4.5m through the sale of the police buildings and about £500,000 per year in the running costs of those buildings.
'People, not buildings'
It said just under half of the stations would remain operational, although they would not be open to the public.
It said the majority of people would have to travel fewer than five miles to find an alternative front counter.
The front counters saved from the cuts are at Kirkham, Bispham, Ormskirk, Great Harwood, Darwen, Barnoldswick and Poulton.
Chief Constable Steve Finnigan said he was pleased that the force had been able to reduce the amount of front counters it had to close.
He said: "We have said all along that we will listen carefully to what the public of Lancashire tell us about the potential closure of front counters and police stations and that's exactly what we have done."
Malcolm Doherty, chair of Lancashire's Police Authority, said: "We have to bear in mind that it's people, not buildings, who cut crime and we are determined that Lancashire communities will continue to receive good policing services, despite the financial climate.
"Many of the buildings concerned were constructed in a different era, and policing has evolved beyond recognition since then, with different requirements.
"We are confident that as a result of these plans, neighbourhood policing will still be delivered in communities and that people wishing to access police services will be able to do so easily and quickly."
Unison said reducing the number of stations earmarked for closure was good news for police jobs.
Branch Secretary Maureen Le Marinel said: "This has been one of the most difficult reviews that the constabulary has undertaken.
"In respect of our members' jobs, increasing the number of front counters that will remain open from 17 to 24 will obviously have a positive impact on their continued employment within the force which we welcome at this difficult time of cuts."