Remembrance parade held in Preston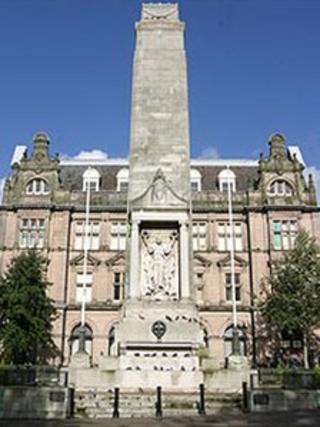 A Remembrance Sunday parade has been held in Preston.
People gathered for the parade which began at the Covered Market at 10:25 GMT and ended on the Flag Market.
The city's Service of Remembrance then started at 10:40 GMT in front of the Cenotaph and a two minute silence was held at 11:00 GMT.
Following the service, there was another march and a salute and all the veterans were offered hot pot in the Guild Hall.
The Mayor of Preston, Bobby Cartwright, said: "Remembrance Day is a chance to stop and think and remember those who bravely gave their lives so that we can live ours and enjoy the freedom we have today.
"Preston has very strong military links and connections and Remembrance Sunday is an opportunity for us all to show our gratitude to those who have served their country.
"This year's Remembrance Day will have added poignancy as we will also be able to view the new Roll of Honour in the Harris Museum that commemorates the 114 people from Preston who have died whilst serving in the armed forces since 1945."