'Cocklers' intercepted on Ribble estuary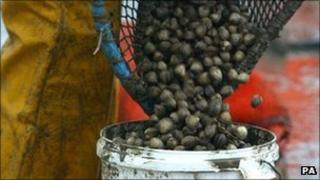 A group thought to be cocklers have been "intercepted" on the closed Ribble estuary beds.
Cockle beds at the estuary and on the Wirral coast were closed on Monday because of health and safety concerns.
A boat and equipment used for cockle fishing were recovered from a group on Thursday, on the Southport side of the estuary.
The fishery authority interviewed the alleged cocklers and released them under caution.
North Western Inshore Fisheries and Conservation Authority has passed an emergency law to shut the beds.
Officers said ignoring the closure and attempting to go out fishing for cockles in the estuary was a serious criminal offence subject to a fine of up to £50,000.
There have been more than 20 emergency service call-outs to the bed since it opened on 1 September.
Regular patrols of the area are being carried out.