College course in Fleetwood to thwart pirates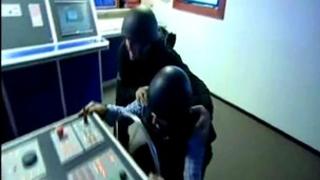 "When some skippers see pirates are coming they stop the engine - that is just about the worst thing you can do."
For Tony Dumbell, head of Maritime Operations at Fleetwood Nautical Campus, dealing with pirates is a matter of common sense, as he speaks from a virtual ship's bridge in a classroom off the Lancashire coast.
The Gulf of Aden may be a world away from the Irish Sea but this college is leading the way in preparing mariners on how to deal with pirates.
It also helps sea marshals - armed security guards based on ships - tackle the basics of managing the potentially-lethal situation.
The college, where Prince William learned how to escape from a submerged helicopter, is offering modules on dealing with piracy as part of its courses for merchant navy officer cadets.
Campus head John Matthews said the college decided to offer the courses after a former student told them about an attempted piracy attack 18 months ago.
The ship eventually repelled the attempted boarders by hurling large chunks of wood at the approaching launch.
Although students don body armour and are taught how to avoid rocket propelled grenades, much of the training offered is based on the less heroic world of protocols, procedure and risk management.
"We're not looking for Rambos," said Mr Matthews.
Sea marshals on the course are ex-servicemen drawn from security firms who have weeded out any unsuitable applicants.
It is already taken for granted they know how to handle weapons and operate in combat situations.
Students learn how to deal with emergencies using a simulated ship's bridge which can replicate any conditions at sea from storms to gunmen landing on deck. The computer generated images which can be seen on the screen are so realistic that some people even report feeling slightly seasick as they view the swell of the waves.
Ships' officers learn how to carry out risk assessments for each voyage - this will usually determine the number of marshals to keep aboard.
Once at sea, ships operate a six-mile exclusion zone - any craft encroaching into this area will force the marshal to decide whether to fire warning flares.
His next step might be to issue the crew with body armour and his last move might be to collect live ammunition from a locked cupboard.
Panic room
By this time the naval coalition patrolling the gulf will have been contacted and non-essential crew moved to the ship's citadel - a maritime panic room in the bowels of the vessel.
Normally warning shots are enough to deter pirates but if a pirate craft keeps heading to the vessel, eventually the crew will be ordered into the citadel. This is the time to cut the engines and sit tight until helicopters or ships from the naval coalition arrive.
Eleven vessels with 149 hostages are currently being held by pirates, who are mostly Somalis.
The UK Chamber of Shipping recently said the longer term solution lies with action by the international community but in the short term, measures such as sea marshals will certainly help, or as Mr Matthews put it: "No ship with armed guards has ever been captured."
And there is one basic message for all mariners, "We always tell them to look behind you - that's where the pirates are coming from," he said.