Students' documentary tribute to Asian WWII veterans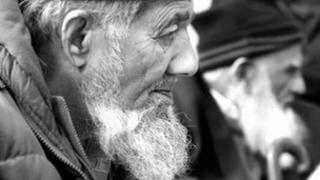 Students in Lancashire have made a documentary film highlighting the role Asian soldiers played in World War II.
We Also Served follows teenagers from Beardwood and St Bede's High Schools in Blackburn as they research the Indian Army's contribution to the war.
It is hoped that the film will be used as a teaching aid in schools and groups promoting community cohesion.
The students spoke to veterans who had taken part in the town's Armistice Day parade.
The film shows the young people interviewing local veterans, Fazal Hussain and Khadam Hussain, asking them about their experiences during the war.
Huge volunteer army
Student Lee Culshaw said: "They told us their stories and what they'd done, they said they had bombs dropping at the side of them.
"It was quite scary to think they'd been in that situation."
The students also also spoke to Brig Bill Aldridge, the highest ranking officer in the north-west England, as well as a military historian and local school teacher.
They said they learned that the soldiers who came from what was then British-controlled India were part of a huge volunteer army.
They said they wanted to make the film as they felt that the involvement of the Asian soldiers was not widely recognised.
Student Peter Hennigan, from Beardwood High School, said: "These Indian soldiers fought a lot for Britain.
"They wanted to win the war for Britain and it's unbelievable it's not shown in the history books."
Councillor Damian Talbot, from Blackburn with Darwen Borough Council, said: "The appalling conditions that these men suffered are something we can barely imagine and what they did should never be forgotten.
"Without the sacrifices of these brave men and indeed of all the soldiers who fought in World War II, the outcome of the war could have been a very different story."