Cocklers' livelihood 'threatened' by Ribble bed closure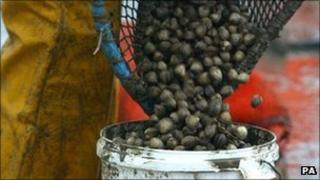 Responsible fishermen have been penalised by the closure of the cockle beds off the Lancashire and Wirral coast, a local MP has said.
The cockle beds closed on Monday after the fisheries and conservation authority passed an emergency by-law.
Fylde MP Mark Menzies said the proposed reopening date of April was too far away for the legitimate cocklers.
The emergency services have been called out more than 20 times since the Ribble Estuary bed opened on 1 September.
Regulators said closing the beds was the only way to deal with unsafe activity on the cockling beds.
Mr Menzies said he backed the closure in the short term because the last few weeks had seen chaos on the cockling beds after hundreds of unlicensed and inexperienced people had been fishing.
"We had one incident where someone bought a boat on e-Bay and 24 hours later they were out in the boat and had to be rescued," he said.
But he added: "We have a duty to protect the people who have been behaving responsibly and have permits. Their livelihoods are at stake."
Mr Menzies said the new by-laws for cockling in the area had to be enforced but he also called for the beds to reopen earlier than April.
Fishing regulators ordered the closure last Friday to avoid further emergencies.
Dr Stephen Adkins, chief executive of the North Western Inshore Fisheries and Conservation Authority, said; "If there is any way we can get it open quickly, we will do."
But Mr Adkins also said his authority wanted to get an agreement with all of the relevant authorities to tighten up the by-laws as well as conserve fish stocks.