Nurse Jayne Craig given award for saving biker's life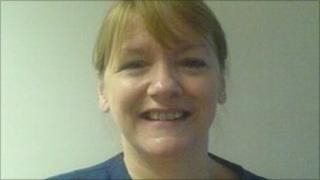 An off-duty nurse from Lancashire has received an award for helping save the life of a motorcyclist who received serious leg injuries in an accident.
Jayne Craig helped Jean Kelly who was bleeding heavily at the roadside on the A65 Lancashire-Yorkshire border.
The accident and emergency nurse at the Royal Lancaster Infirmary said the only equipment on offer to make a tourniquet was a belt and a bra.
She said she knew Mrs Kelly's leg injury was "potentially fatal".
With the help of two district nurses who had also stopped and a passing motorist, Mrs Craig stabilised Mrs Kelly's condition at the scene.
'I'm still here'
She said: "I could see she was bleeding exceedingly heavily out of her badly injured leg. The important thing then was to stop that bleeding, whatever way I could.
"I tried to stop the bleeding by pressing, but it didn't work, so I shouted that I needed something, anything, to act as a tourniquet and one of the district nurses offered me a bra.
"I thought 'how resourceful is that?' but at that very moment a gentleman running up the road brought me his trouser belt, so I tied that round the leg."
Mrs Kelly was taken to hospital by helicopter, where she lost part of her leg.
She said: "It's frightening to think how close I actually came to dying. It doesn't bear thinking about.
"But thanks to Jayne I'm still here."
The two women have been in contact since the accident and Mrs Craig said she was "so proud" to hear of Mrs Kelly's recovery.
The University Hospitals of Morecambe Bay awarded Mrs Craig the Patients' Champion of the Year award, voted by the public, for clinical or non-clinical professionals who have given outstanding service or care to an individual.