Girls' crash deaths an accident - coroner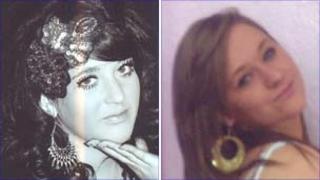 The death of two girls who were killed when their car left a Lancashire road and hit a tree was an accident, a coroner has ruled.
Danielle Lanchester and Carly Notton, from 17 and from Blackpool, died at the scene of the crash in Poulton-le-Fylde on 28 November last year.
Their boyfriends told an inquest they were not racing their car against the girls' car.
But a motorist had said they told him at the scene they had been racing.
Dylan Greenwood, 19, and Corey Lotriet, 21, both said they thought Danielle's Renault Clio was swerving deliberately as loud music blared out of the vehicle and the girls moved about.
Witness Luke Smith told the hearing at Fleetwood Magistrates' Court one of the men had told him at the scene that both cars had been "racing down the road".
'Fateful evening'
Mr Greenwood and Mr Lotriet were arrested on suspicion of causing death by dangerous driving but were later told they would face no further action as there was nothing to suggest they had done anything to cause the crash.
Blackpool deputy coroner Christopher Beverley said: "What does seem likely is that these two young people were in their car with their music probably playing quite loud and there was clearly an element of moving.
"It is very likely that in responding to the rhythm of the music there was a degree of movement on the steering wheel while it was no longer possible to control that movement, with the tragedy ensuing.
"These were two delightful young women. They had everything to live for.
"No-one could have predicted what happened that fateful evening."
The accident investigation concluded it was likely the Clio was driving in excess of the 50mph speed limit on Garstang Road East but it was not possible to say by how much.
There was no other independent evidence to say how fast Mr Greenwood's Ford Fiesta was travelling or how close behind, but there was no evidence the cars touched, the inquest heard.
'Dangerous driver'
Danielle was driving her friend home and had had a minor row with their boyfriends who followed behind.
In a statement, Mr Greenwood told the hearing Danielle was driving "quite erratically" and appeared to be swerving on purpose.
"I backed off because I thought something bad was going to happen," he said.
In his statement, Mr Lotriet said he considered Mr Greenwood to be a "good and safe driver", while Danielle was "quite the opposite". He described her as a "dangerous driver".
Following the inquest, a statement issued on behalf of Coral Notton and her husband, Michael, said the couple could not understand why the original police statements made by Mr Greenwood and Mr Lotriet were not admissible to the coroner.