Lancashire beaches fail Defra bathing quality standards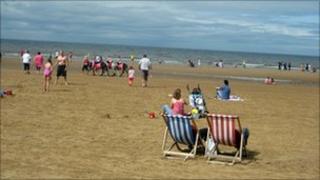 Lancashire has six of the 10 worst bathing beaches in England and Wales, according to the Department for the Environment and Rural Affairs (Defra).
Blackpool's central and south beaches, St Anne's North, St Anne's Pier, Heysham Half Moon Bay and Fleetwood, all failed to meet the standard for water bathing quality.
The beaches were among 502 tested by Defra and Welsh government researchers.
Local authorities have blamed storm spills for contaminating the coast.
'Heavy rainfall'
The Fylde Peninsula Water Management Group, which includes representatives from Blackpool Council, Lancashire County Council, Fylde Borough Council, Wyre Borough Council, United Utilities and the Environment Agency, has been set up to improve beach quality.
A spokesman said: "People need to be aware that our bathing waters are tested 20 times throughout the summer and the only failings have been on the occasions listed, which means for the vast majority of the time they do meet the standards.
"In some cases, when the water samples failed the tests, there had been heavy rainfall four days prior to sampling, which led to storm spills from United Utilities near the River Ribble.
"Both Bispham and Cleveleys did pass all mandatory tests.
"We are taking the findings of this report very seriously and are committed to looking at the reasons for failure and taking appropriate action."
The other beaches which failed to meet the standard are Walpole Bay, Margate, Ilfracombe Capstone and Combe Martin.