Lancashire drug users turn to cheap 'bubble'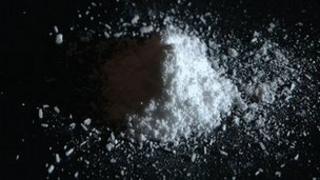 Drug users in Lancashire are turning to cheap stimulants known as "bubble" to get legal highs, a report has said.
The Lancaster University study found users of bubble - a generic term for unidentified white powders - were unconcerned by what was in the drug or the risks of taking it.
The study aimed to find out what drugs were being used following the criminalisation of mephedrone in 2010.
Author Dr Fiona Measham said bubble was filling the "vacuum" it had left.
The study, published in Drugs and Alcohol Today, looked at the drug use of 200 young adults in Lancaster, Preston, Burnley and Chorley.
The results suggested the drugs market in Lancashire was changing rapidly, with cheap legal highs emerging and often being used alongside illegal drugs such as ecstasy and cocaine.
Legal highs, such as mephedrone was before it was criminalised, are drugs which are often designed specifically to avoid legislation under the Medicines Act 1968.
Dr Measham said the various different versions of bubble were filling the "vacuum" left when mephedrone was made illegal.
"We found that one in 10 of the young adults questioned had taken mephedrone within the past year and one in 20 within the past month," she said.
"In the case of the next generation of 'legal highs', no clear substitute for mephedrone has emerged.
"Instead, there was uncertainty, confusion and a degree of disinterest.
"In this vacuum, bubble has emerged and evolved as a generic term used in the north of England to refer to any unknown white powders which are synthetic stimulants."
'Rapidly changing market'
The report's co-author, Dr Karenza Moore, said the rise in usage of "street mephedrone, bubble and generic pills and powders signals the reappearance of drugs with predominately stimulant effects that carry little of the 'celebrity culture' kudos of powder cocaine or premium quality MDMA".
"We could be witnessing the renaissance of 'cheap and cheerful' stimulants appropriate to our 'age of austerity'," she said.
"This rapidly changing drug market poses particular challenges for already hard-pressed drug services catering for teenagers and young adults."
The report was commissioned by Lancashire Drug and Alcohol Action Team, whose strategic director, Tom Woodcock, said it had "helped us gain a better understanding of what is going on in local drug markets".
"The main focus for treatment remains around heroin, cocaine and alcohol but people's drug and alcohol habits are changing and the kind of services we commission must reflect this," he said.
"A big challenge at the moment is generic pills and powders that are coming onto the market, which are like supermarket 'own brand' baked beans.
"In a recession, people downgrade to cheaper drugs, just as they do cheaper groceries.
"This means they often don't know what they are taking, making it harder for substance misuse services to offer the right advice and treatment."