Bishop of Blackburn backs St Paul's Cathedral protests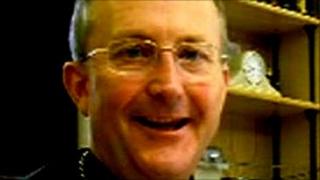 The Bishop of Blackburn has expressed sympathy with the protesters camped outside St Paul's Cathedral in London.
The Rt Rev Nicholas Reid said they were making an important point about the gap between the rich and poor in Britain.
He added in a world where much communication happened online, their direct action was appropriate.
Three clerics from the cathedral have resigned their posts following the protest by the group Occupy which began on 15 October.
'Real message'
The bishop said: "We actually want to have that face-to-face dialogue and that's what's happening now in London in St Paul's Cathedral.
"That's what I hope will happen here in Blackburn and maybe this Christmas we could focus a little more on Jesus's message of social justice."
Canon Chancellor Giles Fraser resigned on 27 October.
The dean of St Paul's Cathedral, the Right Reverend Graeme Knowles, resigned four days later, saying his position had become untenable.
Part-time chaplain Fraser Dyer has also resigned.