Ski Rossendale officially reopens after cuts closed it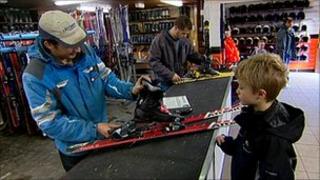 A dry ski slope which was threatened after a council withdrew its funding has officially reopened in Lancashire.
Ski Rossendale first opened in Rawtenstall in 1973 but closed in March after Rossendale Borough Council put the dry ski slope out to tender.
Supporters of the attraction successfully bid to run it as a social enterprise and have worked with volunteers to clean it up.
Skiers have been using the slope since September.
Professional workers, including accountants, have also donated their time freely or at reduced costs.
Honeycombed ski slopes, which were clogged up by weeds and green moss, have been turned white with power washers and garden trowels.
The ski tows have also been overhauled.