Preston bus station's future 'under review'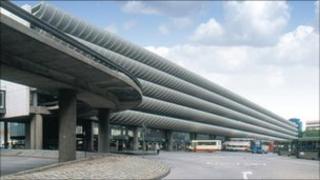 The future of Preston bus station is to be reviewed after John Lewis pulled out of the £700m Tithebarn scheme and the project was abandoned.
The station was due to be demolished to make way for the department store.
The city council's leader Peter Rankin said the bus station's fate was unclear as there were plans for a bus and rail interchange at the train station.
However, a heritage organisation - the World Monuments Fund (WMF) - is calling for the building to be saved.
Mr Rankin said the authority would still regenerate the Tithebarn area of the city but with a less expensive scheme.
'Monument of pride'
Mr Rankin said he was looking for ideas on how to utilise the 1960s building.
He said: "Lancashire County Council, as transport authority, is carrying out a review into transport and traffic options and the bus station will be part of this review.
"They are not keen to continue using that bus station [so] we clearly need to look at possible uses for it."
WMF chief executive, Dr Jonathan Foil, urged decision makers to "look seriously and imaginatively at plans which involve the retention and imaginative re-use" of the bus station.
He said: "It is a very important building. It is a monument of pride and it ought to be upheld."
Preston bus station was described by the English Heritage as "one of the most impressive civic buildings of its day".
However, it has also been called an "eyesore" by the former leader of the city council, Ken Hudson.