Fishermen hit out at dredger plan for cockle bed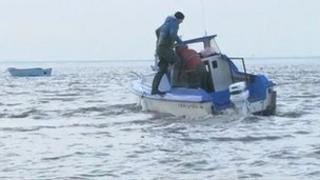 Local fisherman have hit out at plans to clear a Lancashire cockle bed with dredgers.
The bed in the Ribble Estuary opened on 1 September. Since then, cocklers have had to be rescued from the estuary more than 25 times.
The North West fisheries board wants to bring in suction dredgers to harvest the shellfish and close the bed.
Fishermen have said the move would ruin their livelihood. But the fisheries board has said it was "the only way".
One fisherman in Lytham told the BBC: "It is going to mean we are not going to make any money.
"Then what are we going to do? Are they going to pay us our wages?"
Another added: "It is terrible."
Dr Stephen Atkins, from the fisheries board, previously admitted it was a "drastic step" but said "sadly this is the only way".
'£8m of shellfish'
He added that those who had been fishing illegally and in an unsafe manner had brought about the dredging plan and closure.
Up to 400 cocklers a day have been gathering at Foulnaze bank, between Lytham and Southport, since the cockle beds were opened.
It is estimated that the bed - situated two miles offshore and which becomes exposed at low tide - contains about £8m worth of shellfish.
Cockles, which are mainly exported to Europe, fetch about £1,200 a tonne.
There have been fears among local residents, the police, and coastguard agency of a repeat of the Morecambe Bay disaster. Twenty-three Chinese cockle pickers drowned in the bay in 2004.