Engineers study Morecambe Bay mussel bed closure pipe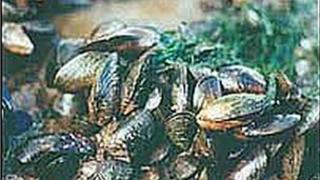 Marine engineers have been drafted in by United Utilities to repair a clogged sewage pipe after mussel beds were closed amid contamination fears.
A replacement pipe has been pumping out sewage that has only undergone fine screening.
The company said it planned to send in a team of divers to remove sand from a blocked pipe 1.5 miles (2.4km) offshore in Morecambe Bay.
But engineers needed to wait until sea conditions were right.
A United Utilities spokesperson said: "Our priority is to remove the sand deposits from the end of the pipe as quickly and safely as we can and we are taking specialist advice on the best way to do this.
"It will not be a straightforward operation given the high tides, the depth of the pipe and the environmental sensitivity of the area."
The mussel beds were closed by Lancaster City Council as "a precautionary measure" on Wednesday and people who had gathered mussels were advised not not to eat them.