Trades Club fire in Blackpool thought to be deliberate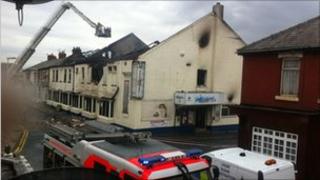 A fire at a club in central Blackpool is thought to have been started deliberately, Lancashire Fire and Rescue Service have said.
An investigation is underway into the cause of the fire which broke out at Blackpool Trades Club on Chadwick Street at 04:00 GMT on Monday.
Eight fire crews attended the blaze which caused the roof to collapse. The top floor later had to be demolished.
Fifty residents were evacuated from their homes for two nights.
They have now been allowed to return home.
A spokesman for the fire service said: "Unfortunately a lot of the evidence on how the fire started has been destroyed in the demolition of the first floor to make the building safe for residents.
"However, police are looking at CCTV and talking to people in the area to find out how it started."