Ribble estuary cockling: Plans to close bed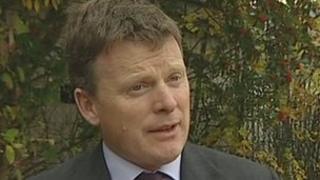 A cockle bed off the Lancashire coast is set to close, as fisheries officers plan to bring in dredgers to harvest the remaining shellfish.
Cocklers have had to be rescued from the Ribble estuary 26 times in the past two months.
Multi-agency checks carried out on Tuesday found 50 cocklers fishing without permits and 15 "unsafe" boats.
Now the North West fisheries board has invited tenders for suction dredging of the bed. Work could start next week.
Dr Stephen Atkins, from the board, said: "This is a drastic step and one we were reluctant to take but it is maybe the only way can sort this situation out.
"I understand the effect this will have on the fishermen who have been fishing responsibly and safely for a long time but sadly this is the only way.
"Those who have been fishing illegally and in an unsafe manner have brought this situation about."
He said the dredging would mean the remaining cockles would go to a handful of larger firms.
"We think this really is the only way," he said. "If we don't act there is the risk of a loss of life."
Local fishermen, who have been fishing the area for generations, say their livelihood has been wrecked by people who have taken to the water without permits and in unsafe boats.
But there have been fears among local residents, the police, and coastguard agency of a repeat of the Morecambe Bay disaster. Twenty three Chinese cockle pickers drowned in the bay in 2004.
'Completely reckless'
Speaking to the BBC earlier, Fisheries Minister Richard Benyon said closing the beds could be the only way to prevent a major loss of life.
He said he shared the concerns of Fylde MP Mark Menzies, who said the numbers of inexperienced and unlicensed cocklers could result in fatalities.
He said: "There are legitimate cockle fisherman who have long-established rights to fish there and do so with all the health and safety measures that you should expect.
"But there are a lot of people coming in now to do this illegally, or to do this in a way that is completely reckless for their own lives and those who might have to rescue them.
"We are working very closely with the North West Inshore Fisheries Conservation Authorities and Mark Menzies, the local MP, and other organisations to make sure we are doing all we can."
The Minister for the Natural Environment and Fisheries said it was possible a review of the bylaws that govern the fishery would take place, and they would make sure police, the local authority, Inshore Fisheries Conservation Authority (IFCA) and the Maritime and Coastguard Agency were working together.
Up to 400 cocklers a day have been gathering at Foulnaze bank between Lytham and Southport since the cockle beds were opened by IFCA on 1 September.
The beds are due to be closed again in April but the RNLI said some inexperienced cocklers were ignoring weather and tidal conditions to gather as many cockles as possible within the period.
It is estimated that the bed situated two miles offshore and which becomes exposed at low tide, contains about £8m worth of shellfish.
Cockles, which are mainly exported to Europe, fetch about £1,200 a tonne.