Great Harwood cemetery damage to 24 headstones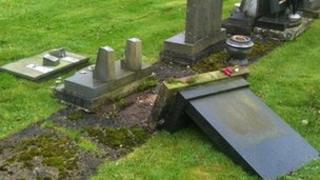 Twenty-four headstones have been pushed over and damaged at a cemetery in Lancashire.
Police said the damage occurred between Friday 28 October and Monday 31 October at the cemetery on Blackburn Road in Great Harwood.
Community beat manager, PC Andy Sarchet said it was "an insensitive, despicable and mindless crime".
Hyndburn Borough Council said it would fund the cost of repairs and was contacting relatives.
Councillor Munsif Dad, cabinet member for cemeteries, said: "I am shocked, disgusted and saddened that grieving relatives have had to face this added burden due to this act of mindless vandalism.
"Please help the police find the people who did this, so if you saw or heard anything that will help catch them then please contact police."