Fears for cocklers in Lytham 'gold rush'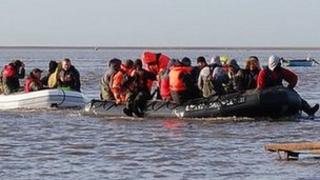 "It's absolute mayhem - a complete free-for-all."
Those are the words of a fisherman who witnessed the 2004 Morecambe Bay disaster and fears a similar tragedy happening in the "gold rush" since the reopening of the cockle bed in the Ribble Estuary off the Lancashire coast.
The usually tranquil seaside town of Lytham has been transformed into a bustling fishing port since the reopening of a cockle bed last month.
As the tide came in on Friday so did about 300 boisterous, mud-covered fishermen who were returning to the normally remote Lytham beach, proudly clutching the fruits of their early-morning catch.
As they came ashore at about 09:30 BST, there was a frantic convoy of 4x4s, vans and trailers towing their crews in and speeding off with tonnes of freshly caught shellfish.
Leafy Lytham has had an influx of hundreds of fisherman each day since the reopening of the Foulnaze Bank, three miles off the Fylde coast, after the discovery of a multimillion-pound harvest of cockles.
Fishermen from Scotland, South Wales and even Russia have converged on Lytham as they vie to get their share of the spoils before the supply dries up.
Some claim to make up to £1,000 a day for the shellfish, most of which are exported by merchants to France or Spain.
Lytham is likely to remain popular for cocklers until the bed is closed in April 2012 or until cockle numbers fall - whichever comes first.
But while the cocklers claim to be making good money, some of the locals believe it is at their expense.
Residents have reported rubbish being dumped by cocklers, late-night disturbances and cocklers urinating in their gardens.
Kathy Gaunt, who lives close to the beach, said: "Lytham is so nice and it is being left so unsightly with all the rubbish. Some of them are filthy.
"It has left people really angry."
There are also concerns about safety, with coastguards reporting 26 rescues since the cockle bed opened on 1 September.
The rescue of 10 cocklers in distress on Monday, and another three on Friday, does not seem to have had any affect on the number of cocklers.
The BBC spoke to an experienced fisherman who was at Morecambe Bay in 2004 on the night 23 Chinese cockle pickers drowned. He believes some fishermen are risking their lives on Foulnaze Bank.
The fisherman, who did not want to be named, said: "[Some] are going out without permits and going out totally ill-prepared.
"It is exactly like the Chinese in the Morecambe Bay tragedy but on a bigger scale.
"It needs policing and a register of who is going out there."
'Could be repercussions'
There is an air of fear in the fishing community about speaking out about the dangers of cockling.
One of the cocklers said: "I'm too busy to talk and I don't think anyone else will speak to you around here because people know who we are and there could be repercussions."
While Fylde fishermen were reluctant to talk, those from other parts of the UK were more forthcoming.
Lee Davies, from Swansea, said for those who knew what they were doing it was safe, but he added: "It is dangerous if you are inexperienced and go out in a little boat."
North Wales cockle picker, Paul Ward, 44, said: "Safety comes first with us but some are going out totally unprepared; some go out without life-jackets.
"They cram in too many [cockles] and the weight is too much for their little boats. I don't know why, because there's plenty out there for everyone."
Colin Bryden, from Dumfries, said: "One boat got into difficulty the other night and one of our crew offered them a rope on the condition they got rid of some of their cockles which were weighing his boat down.
"He said: 'I'll lose £200 if I throw them away' so my friend refused to give him a rope."
'Complete mess'
Dr Stephen Atkins, chief executive of the Inshore Fisheries and Conservation Authorities, which is in charge of controlling fisheries, said: "We have a permit scheme in place and fishery officers are making checks.
"Before issuing a permit people have to complete a safety training course, so they are aware of the tides and what equipment they need."
However, Fylde Borough Council and the Conservative MP for Fylde, Mark Menzies, do not agree.
They are due to meet with Fisheries Minister Richard Benyon on Thursday to call for a change in legalisation to give the council more power to bring cockling under its control.
Mr Menzies shook his head as he watched the men return from the sea.
"It is a complete mess and needs controlling," he said. "You really need to come down to see the scale of the problem."