Metal detector fan Darren Webster finds Viking hoard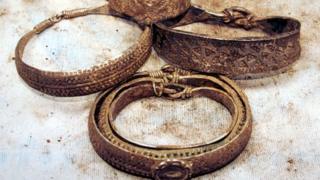 A metal detector enthusiast has found a major hoard of Viking silver in a field on the Cumbria-Lancashire border.
Darren Webster, from Carnforth, uncovered more than 200 silver pieces including ornate bracelets, coins and ingots in a lead pot.
He said he had searched the same undisclosed location several times before and found nothing.
The silver is now with experts at the British Museum, who described the find as "of national significance".
They will reveal their findings at the end of the year.
Mr Webster said: "The first thing I uncovered was a lead pot, and it was when I lifted the pot out of the ground that the silver coins and other artefacts began to fall out of it.
"That's when I noticed I'd found something of great importance."
Dot Boughton, finds liaison officer for Lancashire and Cumbria, said she was "absolutely speechless" when she saw the silver for the first time.
She said: "When you've got a lead vessel and coins, at least one of them Arabic, as a metal detectorist and historian you know you've got a Viking hoard.
"It's very important, Viking hoards are extremely rare.
"The bracelets are in fantastic condition and most of the coins and ingots are as well."
Ms Boughton said the fact that an Arabic coin was also found could shed new light on what the Vikings were doing in North West England.
She said: "The coins are very interesting. It's not uncommon that Arabic coins are in Viking hoards.
"The Vikings, even though they originated in Scandinavia, had trading connections all over Europe and the Near East. They were absolutely everywhere."
It is hoped the silver will eventually be displayed at a museum in Cumbria.