Ribble cocklers: Mark Menzies MP fears fatal accident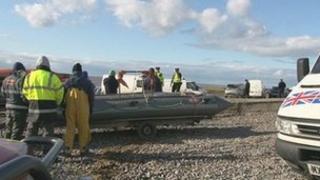 An MP says he fears a repeat of the Morecambe Bay cockling tragedy after the 14th cockler rescue in the Ribble Estuary since early September.
Two helicopters, four lifeboats and two coastguard crews had to rescue three boats on Monday.
Mark Menzies, MP for Fylde, said: "We are at crisis point, every few days people are having to be rescued."
Twenty-three Chinese cocklers drowned in February 2004, further up the Lancashire Coast at Morecambe Bay.
The Conservative MP said cockling might have to be banned in the area unless greater control could be introduced.
'Industrial scale'
Last week Mr Menzies, who said he had received many emails from concerned constituents, called for an urgent meeting with Fisheries Minister Richard Benyon.
He is now hoping that the meeting can be brought forward.
"I fear we could see another tragedy, I find it incredible that in 2011 we are seriously talking about large numbers of people having to be rescued.
"Defra (Department of Environment Food and Rural Affairs) seem to think it is is one man with a bucket operation, but this cockling is taking place on an industrial scale.
"My main concern is that people are putting themselves and the emergency services at risk."
The latest rescue was on Monday evening during a gale force wind in heavy seas.
Swept to sea
The skipper of one of the boats had tried to tow back the two others, which had both suffered engine failure, but had to abandon his attempts when he too began to take on water.
A Liverpool Coastguard spokesman said: "Mobile phones are no substitute for VHF radios, but we're seeing many cocklers relying on them."
The rescue came a week after five Polish cocklers were rescued from the same area, prompting a warning from the North Western Inshore Fisheries and Conservation Board (NWIFCB) that there could be a "serious incident" unless small boats were safety-checked by the Maritime and Coastguard Agency.
Under current law there is nothing to prohibit commercial fishing from designated areas using small boats, which are not required to be registered with the coastguard, the RNLI said.
The cockle bed at Foulnaze, near Lytham, attracts about 300 cocklers a day, whose hauls can fetch up to £1,200 a tonne at fish markets.
In February 2004, 23 Chinese men and women, who were collecting cockles on foot, were swept out to sea and drowned at Morecambe Bay.