Blackpool Tower's 'beating heart' unveiled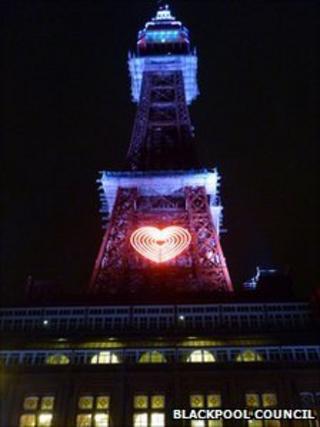 A 9m (29ft) wide "beating heart" has been installed on Blackpool Tower as a display of love for the town.
The sculpture, which is made up of 900 programmable LEDs, has been installed around a quarter of the way up the landmark.
The lights can create 16,000,000 colours, a feature that will be used to celebrate specific occasions, such as being turned green on St Patrick's Day.
Blackpool councillor Graham Cain said the heart would "shine all year round".
The tip of the heart hangs around 39m (128ft) from the ground.
Mr Cain said it was an extension of VisitBlackpool's "I Heart BPL" branding and another way of offering something new for those who already visit the resort.
'Real beacon'
"We've got visitors that return every year so every year we need to give them something new and exciting to enjoy," he said.
The heart is part of the lighting system at the top of the tower and can be operated in isolation or in combination with lights further up.
Iain Hawkins, head of Merlin Entertainments Blackpool, which runs the tower, said it showed the landmark to be "the beating heart of the town.
"The new lighting means we can turn the top of the tower and now the heart into any colour and make it a real beacon for Blackpool," he said.
"The Blackpool Tower is so iconic and the first thing everyone spots on the way into Blackpool so having an illuminated heart for all to see couldn't be more fitting."
The heart overlooks the newly unveiled Comedy Carpet, which has placed the famous catchphrases of well-known comedians in mosaic on the promenade.