Rapist Gerald Greenwood cannot be buried with wife, church rules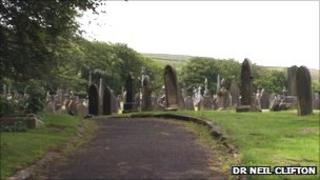 A Lancashire man jailed for child sex offences cannot be buried alongside his wife, church authorities have ruled.
Gerald Greenwood, 76, a former shopkeeper from Bacup, was convicted in 2007 of raping three girls, two years after the death of his wife Mary.
He recently asked for her body to be moved to a joint plot he had purchased.
A judge at Church of England court said it was "inconceivable" that his wife of 48 years would have wanted to be buried with him if she knew about his crimes.
Mrs Greenwood, who died in November 2005, was buried in her mother's plot at Bacup Cemetery.
Her widower had requested her body be exhumed and moved to a new plot so he could be buried alongside her, but family members lodged a complaint.
Greenwood pursued legal action to have his wife's remains transferred, a case that went to the Church of England court.
In a letter read out at the hearing, Greenwood said: "I have bought an adjoining grave and would like my wife's remains to be removed to a new grave so that I can be buried with her, as we were married for 48 years."
His children and his late wife's family told the court that the couple had separated in 2001 and were no longer together when she died.
Greenwood's bid was rejected by Judge Geoffrey Tattersall QC, the Chancellor of the Diocese of Manchester.
In his ruling, he said: "Had the deceased known the full extent of the petitioner's criminality, I am satisfied that it would have been inconceivable that she would have wanted to be in the same grave."