Help for disabled victims of hate crime in Blackpool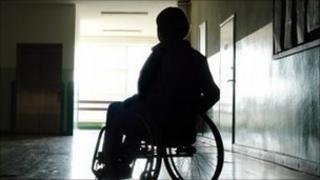 A new scheme to encourage disabled victims of hate crime to come forward is being piloted in Blackpool.
Disability First is running the scheme, which allows disabled people to report hate crimes through them rather than a police station.
Chief Executive of the project Denise Baker urged victims of physical and/or mental abuse because of their disability not to suffer in silence.
"Don't put up with it, the only way we can change is if we know about it."
'Speak up'
Ms Baker said: "In my experience a lot of disabled people just accept abuse but you shouldn't have to. If something happens then report it."
Under the scheme, which is funded by the Ministry of Justice, victims can report incidents at the resort's Centre for Independent Living where the registered charity is based.
"People are often frightened of repercussions or think that they won't be taken seriously and it takes a lot of courage to speak up. Going to the police can be traumatic enough for anyone.
"This is a friendly place and a non-threatening environment where we will take you seriously and will help you do something about it."
Disability First co-ordinates a range of other disability services for Lancashire residents at the centre.
A Ministry of Justice spokesperson said: 'We recognise that many disabled people can face barriers to reporting hate crime when it happens to them, or that they do not have the confidence to report directly to the police.
"The MoJ's Victims Fund provided Lancashire Disability Information Federation with funding to establish a third-party hate crime reporting centre for victims of disability related hate crime."